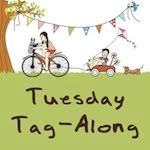 I so enjoy this Tuesday meme. It gives me the chance to find new blogs that I would have otherwise probably never discovered. I was leary at first, because it felt an awful lot like begging for followers, but it's become a fun game for me to find some fantasic new blogs and learn new things. I've found new foodies, lots of gifted crafters, and some witty humor as well. Won't you join me?
Here's how it works:
*Click on the banner above.
*Create a new Tuesday Tag-Along blog post. Include the Tuesday Tag-Along button by copying and pasting the code above. (You are also welcome to copy and paste these instructions in their entirety, or any portion of this Tuesday Tag-Along blog post!)
*Add your blog name and the URL of your TTA post to the MckLinky at
Twee Poppets
.
*Follow Twee Poppets, the hostess blog listed in the first slot. Twee Poppets will follow you back! (Note: If you want Twee Poppets to follow you back, you MUST leave her a comment saying that you are a new follower and leave a link to your blog!)
*If you can, please follow the blogs in the three slots before you (e.g., if you're number 20, follow numbers 19, 18, and 17). This is not mandatory, but it will help ensure that everyone who signs up gets a few new followers!
*Follow as many other blogs as you want. The more you follow, the more that will follow you back! Be sure to tell them that you're following from Tuesday Tag-Along! You may also want to leave a link to your blog so they can return your follow more easily.
Have a great day!